Monthly Review October 2021
Passenger car registration: -32.9% compared with September 2020; Since January 2021, an increase of 37.9% compared with Jan-Sep 2020.
Hezi Shayb-PhD in collaboration with Dr. Hanan Golan (the economic chapter was edited by Mr. Nadav Caspi, the I-via's Chief Economist)
November 24, 2021
Preface – Economic Climate
The Israeli economy is an advanced economy that belongs to the OECD organization. The GDP per capita is $ 48,411 and the growth rate in 2010-2019 was the average annual growth rate of 3.3% per year. At the beginning of the Corona crisis, the debt-to-GDP ratio was 60% one of the lowest in the Western world. The government deficit was 3.7% and the unemployment rate was 3.4%
The Corona crisis has affected the Israeli economy as significantly as other economies in the world. The deficit in November 2020 – October 2021 is 5.5% from the GDP, the debt-to-GDP ratio is 71.8%. The unemployment rate rose to 5.2% but the unofficial unemployment rate climbed to about 7%. The new government gave a good signal to the markets by passing a new budget for the first time in 3 years. From a monetary point of view, the crisis is being managed professionally by the Bank of Israel, which is monitoring the local credit market and solving liquidity problems through plans to purchase bonds and keep interest rates low
In October the fourth wave of corona virus continued to spread; however, the restrictions on the economy were minimal. The grant to businesses and unemployed workers was discontinued. As a result, the Israeli economy is functioning again and there was a decrease in unemployment. The fourth wave can cause a setback in the recent month's achievements. It is unclear whether Israel will be able to meet the target set by the chief economist of the Ministry of Finance, growth of 4.6% in 2021
Along with economic stabilization, there has been an increase in the inflation rate, as of September the annual rate is 2.5%. The chief economist in the ministry of finance predicts a similar increase next year as well; an increase in prices and inflation is a factor that must be taken into account in the coming years
Statistical Profile
Society
Population (September 2021): 9.408M
Economy
GDP per capita: $48,411
Inflation : 2.5% Annual Growth Rate
Current Account Balance (Q2 2021): 5.41% of GDP
Trade in Goods and Services (October 2021): $13.49 billion
Finance
US Dollar Exchange rate (September 2021): NIS 3.21
Euro Exchange rate (September 2021): NIS 3.73
Long-term interest rates (October 2021): 0.96% Per Annum
Short-term interest rates (Octoberr 2021): 0.03% Per Annum
Government
Debt to GDP ratio (October 2021): 71.8%
Deficit to GDP (November 2020 – October 2021): 5.5%
Motorization
Level of Motorization (Q4 2020): 397 Vehicles/1,000 Residence
Innovation and Technology
Gross Domestic Spending on R&D (2020): 4.9% Of GDP
Environment
CO2 Emissions (2020): 6.290 Tones Per Capita
Jobs
Employment Rate (Q3 2021): 67% of Working Age Population
Official Unemployment Rate (September 2021): 5.16% of Labor Force
Unofficial Unemployment Rate (including non-paid absence due to Corona) : 7%
New Cars and CV Registrations
Israel New Passenger Car Registration – January-October 2021
Passenger car registration: +29% compared with October 2020; Since January 2021, an increase of 37.2% compared with Jan- Oct 2020
In October 2021, the Israeli passenger car market registered 18,784 new cars. This figure represents an increase of 29% compared with October 2020. Since January, 267,684 new cars were registered – an increase of 37.2% compared with Jan-Oct 2020.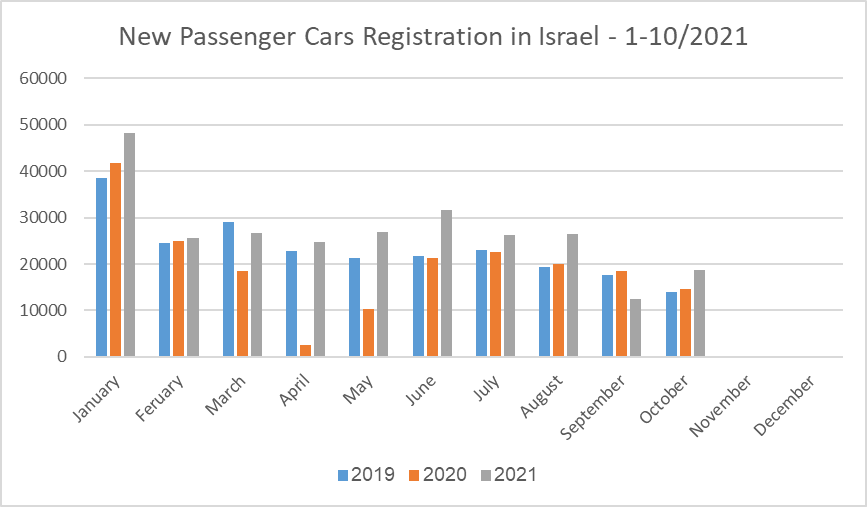 New Passenger Cars Registration in Israel 1-10/2021 According to Brands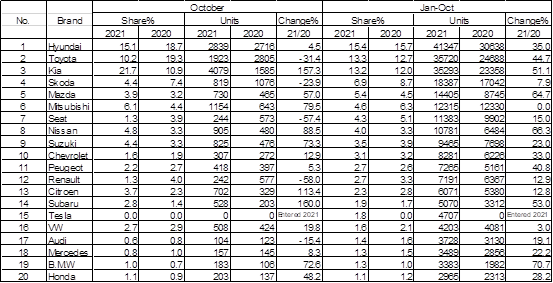 New CV above 3.5 ton and Bus Registration in Israel 1-9/2021
Commercial Vehicles above 3.5 ton registration: +51.8% compared with October 2020; Since January 2021, an increase of 44.9%
In October 2021, the Israeli market for CV above 3.5 ton registered an increase of 51.8% in registrations with 1,318 new registrations, compared with 868 units in October 2020. Since January 2021, 14,887 new CV and buses were registered – an
increase of 44.9% compared with Jan-Sep 2020.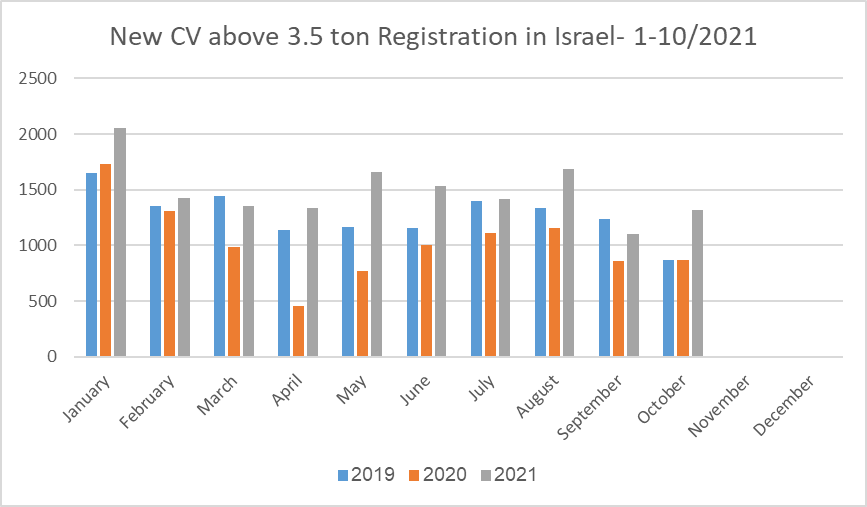 New CV above 3.5 ton Registration in Israel 1-10/2021 According to Brands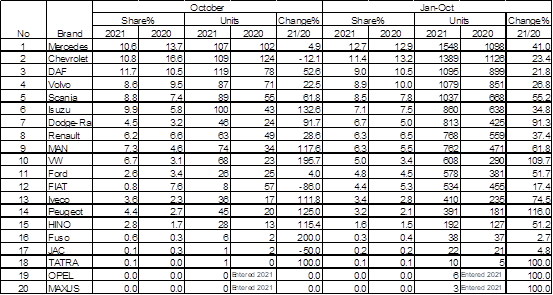 New Bus Registration in Israel 1-10/2021 According to Brands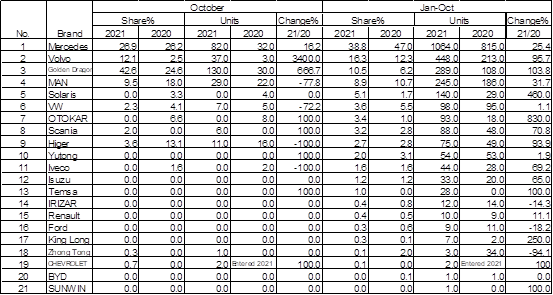 Monthly review – Israel's Auto and Auto-Tech industry
FORD to support 8200 IMPACT Accelerator
FORD Innovation Center and FORD Fund will support 8200 IMPACT – the accelerator founded by 8200, IDF Intelligence Corps alumni. The accelerator operates as a non-profit organization and 8200 IMPACT provides start-ups with a 5 month intensive training led by successful entrepreneurs, mentors and investors. As of today, companies that graduated the program raised over 58M$. FORD and FORD Fund will collaborate with the program and aid entrepreneurs in developing technological solutions to social and environmental challenges.
Lubinsky Group Buys 2.5% Shares of City Transformer
The official importer of Peugeot, Citroen, Opel, DS and MG to Israel, Lubinsky Group purchased 2.5% of the shares of City Transformer, the developer of a micro-electric urban car. According to CEO of Lubinsky, Dani Shavit, the company sees City Transformer as "The next big thing in electric urban transportation". The company that launched its micro-electric car in 2017, showed the CT-1 in the latest IAA exhibition in Munich earlier this year. The company also signed a 22M NIS deal for supplying vehicles to United Hatzalah, the largest independent, non-profit volunteer emergency medical service organization in Israel.
Guardian Optical Technologies Acquired by Gentex Corp
Guardian Optical Technologies is an Israeli start-up that pioneered a unique, multi-modal sensor technology designed to provide a comprehensive suite of Driver and Cabin Monitoring solutions for the automotive industry. The company was acquired by Gentex, a long-time supplier of electro-optical products for the global automotive, aerospace and fire protection industries. Gentex is best known for supplying nearly every major automaker with connected-car technologies and advanced electronic features that optimize driver vision and enhance driving safety. In the press release Gentex said the acquisition will "Further bolsters Gentex's cabin monitoring expertise".
REE and Hino Win EPDA Award
The next-generation commercial mobility solution is to be jointly developed by Hino (Toyota truck arm) and Israeli REE, will be comprised of a modular EV platform ('Powered by REE') that will carry a customized Mobility Service Module. The module can carry passengers or goods, and will be enhanced with data-driven services. The Mobility Service Module can be easily detached from the EV platform and once detached it can serve as an independent, stand-alone unit, making services and goods more accessible to society. This product won the European Product Design Award (EPDA) as a "Top Design" in the Design for Society category.
Autotalks Launches Platform for Preventing Bike and Scooter Accidents
Autotalks, an Israeli V2X (Vehicle-to-Everything) communication solutions pioneer, is launching ZooZ, a micro-mobility safety platform for preventing bicycle and scooter accidents using V2X. The company is already discussing with manufacturing and integration partners the implementation of the platform. Autotalks is adapting its own V2X solutions to mitigate the sharp rise in accidents involving two-wheelers. The ZooZ concept platform is based on a V2X device and a smart sign. The compact device is installed on the handlebar of all types of bicycles and scooters, electric and non-electric. It alerts when a vehicle equipped with V2X is endangering a cyclist and informs other V2X equipped vehicles and smart signs about the existence of the cyclist. The ZooZ device will be integrated into bike computers. The smart sign reliably alerts drivers, even those without V2X, when a bike or scooter with a device is entering an intersection. All road-users, including cars, bikers, scooters, motorcycles, and pedestrians will communicate with each other through V2X to form a safety network.
GoTo Global Acquires German emmy
GoTo Global, the provider of multi-mobility solutions in Israel, Spain and Malta through an App, acquired German electric scooter sharing company emmy. GoTo Global offers customer access to a range of transport solutions: cars, vans, mopeds, scooters and bikes. The acquisition followed a recent finance of 22.5M$ from investors such as Adam Neuman, founder of WeWork.
Rise in EV Sales in Israel
Electric vehicles sales in Israel registered an increase of 400% in the first three quarters of 2021. Market share of EVs reached 3.2%, compared with 0.7% last year, with 8,000 new registrations. Tesla Model 3 leads the EV segment with 4,707 units, followed by MG ZS EV (1,181) and Airways U5 (280).