Monthly Review November 2021
Passenger car registration: +3.2% compared with November 2020, Commercial Vehicles above 3.5 ton registration: +31.4% compared with November 2020
Hezi Shayb-PhD in collaboration with Dr. Hanan Golan (the economic chapter was edited by Mr. Nadav Caspi, the I-via's Chief Economist)
December 20, 2021
Preface – Economic Climate
The Israeli economy is an advanced economy that belongs to the OECD organization. The GDP per capita is $ 50,688 and the growth rate in 2010-2019 was the average annual growth rate of 3.3% per year. At the beginning of the Corona crisis, the debt-to-GDP ratio was 60% and was one of the lowest in the Western world. The government deficit was 3.7% and the unemployment rate was 3.4%.
The Corona crisis has affected the Israeli economy as significantly as other economies in the world. The deficit in December 2020 – November 2021 is 4.6% from the GDP, the debt-to-GDP ratio is 69.7% The unemployment rate rose to 4.7% but the unofficial unemployment rate climbed to about 6.7%. The new government gave a good signal to the markets by passing a new budget for the first time in 3 years. From a monetary point of view, the crisis is being managed professionally by the Bank of Israel, which is monitoring the local credit market and solving liquidity problems through plans to purchase bonds and keep interest rates low.
In November the fourth wave of corona virus continued to spread; however, the restrictions on the economy were minimal. As a result, the Israeli economy is functioning again and there was a decrease in unemployment. The chief economist of the Ministry of Finance predicts that the growth rate at 2021 will be 7.1%.
Along with economic stabilization, there has been an increase in the inflation rate, as of November the annual rate is 2.4%. The chief economist in the ministry of finance predicts a similar increase next year as well; an increase in prices and inflation is a factor that must be taken into account in the coming years.

Statistical Profile
Society
Population: 9.423 Million
Economy
GDP per capita: $ 50,688
Inflation: (Annual Growth Rate) :2.4%
Current Account Balance (Q3 2021): 4.3% of GDP
Trade in Goods and Services (October 2021): $ 13.49 billion
Finance
US Dollar Exchange rate: NIS 3.12
Euro Exchange rate: NIS 3.55
Long-term interest rates (November 2021): 1.34% Per Annum
Short-term interest rates (November 2021): -0.010% Per Annum
Government
Debt to GDP ratio : 69.7%
Deficit to GDP ( December 2020-November 2021): 4.6%
Motorization
Level of Motorization (2020): 391 Vehicles/1,000 Residence
Innovation and Technology
Gross Domestic Spending on R&D (2020): 4.9% of GDP
Environment
CO2 Emissions (2020): 6.29 Tonnes Per Capita
Jobs
Employment Rate (November 2021): 65.2% of Working Age Population
Official Unemployment Rate (November 2021): 4.7% of Labour Force
Unofficial Unemployment Rate (including non-paid absence due to Corona):6.7%
New Cars and CV Registrations
Israel New Passenger Car Registration
Passenger car registration: +3.2% compared with November 2020; Since January 2021, an increase of 34.8% compared with Jan-Nov 2020.
In November 2021, the Israeli passenger car market registered 15,485 new cars. This figure represents an increase of 3.2% compared with November 2020. Since January, 283,169 new cars were registered – an increase of 34.8% compared with Jan-Nov 2020.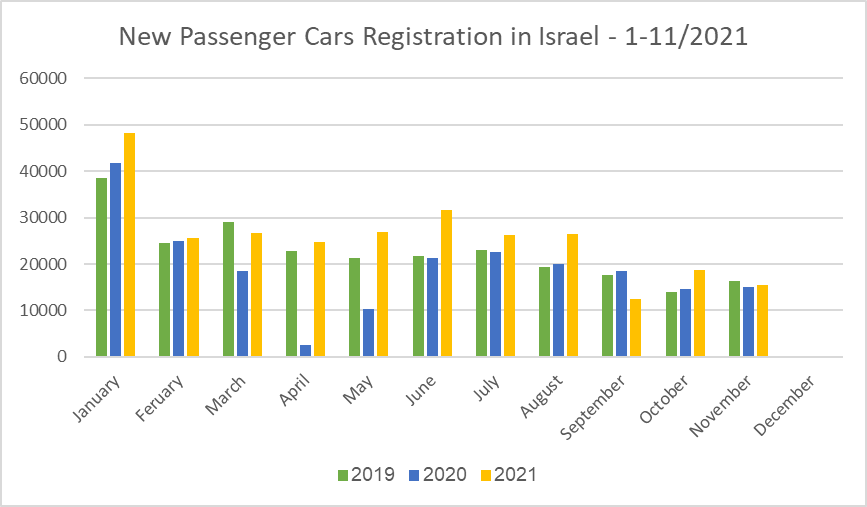 New Passenger Cars Registration in Israel According to Brands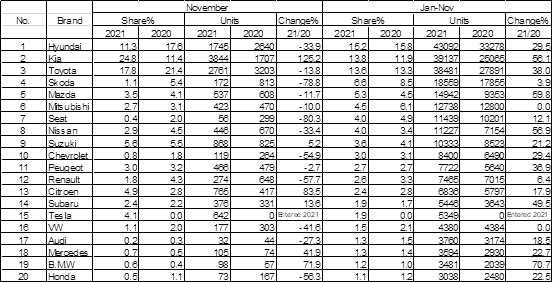 New CV above 3.5 ton Registration in Israel
Commercial Vehicles above 3.5 ton registration: +31.4% compared with November 2020; Since January 2021, an increase of 43.6% In November 2021, the Israeli market for CV above 3.5 ton registered an increase of 31.4% in registrations with 1,130 new registrations, compared with 860 units in November 2020. Since January 2021, 15,987 new CV and buses were registered – an increase of 43.6% compared with Jan-Nov 2020.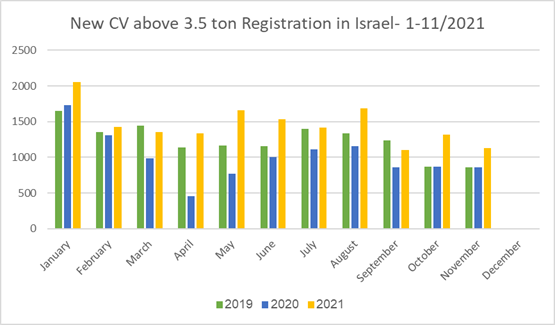 New CV above 3.5 ton Registration in Israel 1-11.2021 According to Brands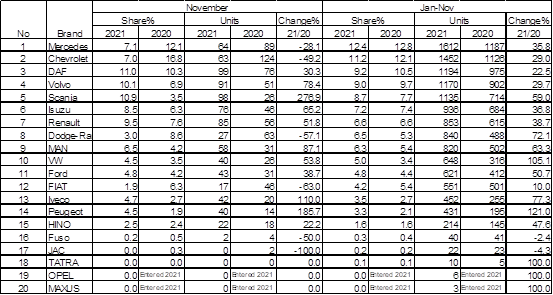 New Bus Registration in Israel According to Brands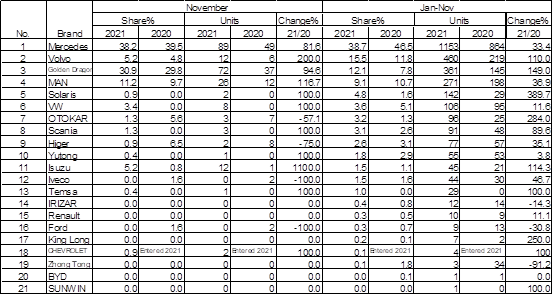 Israel's Auto and Auto-Tech industry
Cipia Joins Tel-Aviv Stock-Exchange
A new Auto-Tech company joins TASE – Cipia, developer of cabin monitoring systems, raised 345M NIS and will be traded under the symbol CPIA. Cipia uses image processing and AI in order to ensure better and safer driving. The company's flagship product "Driver Sense" is already embedded in 17 different car models, and the company also collaborates with Mobileye.
Ford to Collaborate with Watergen
Ford Motor Company will provide Israeli developed built-in water generators in its' recreational vehicles. Israeli Watergen, developed "Mobile Box" – the first vehicle on-board drinking water system that is able to extract clean water from ambient air. The system is capable of generating 25 liters of fresh drinking water per day, using only 12V supply and fresh air. The collaboration takes off with a Ford Ranger equipped with a Mobile Box embarking on a 12 months journey across the USA.
Strategic Long Term Collaboration between Redler Technologies and Indian Virtual Forest
Israeli technology will be embedded in micro electric vehicles made by Virtual Forest. Israeli Redler Technologies, a specialist in motion control and power distribution engineering, signed a long term strategic collaboration with Indian Virtual Forest that will embed Redler's patents and components in the EVs it develops for the Indian and East-Asia markets. The agreement includes a 5.5M$ initial investment by Virtual Forest.
REE Unveils "Leopard" – a Fully Autonomous Concept Vehicle Based on REE's Modular Platform
REE Automotive presented a last-mile fully autonomous concept vehicle, ideal for delivery, e-retail and logistics. The "Leopard" is equipped with X-by-wire REEcorner technology for drive, steer and brake control, has a cargo volume of up to 7.5 m3, peak motor power of up to 100 kW and a top speed of 160 Km/h. THE Leopard will be showcased this January in CES 2022 in Las-Vegas.
SaverOne: A Second Pilot Study Outside of Israel
SaverOne, developer of cell phone distracted driving solutions, reports a new pilot study that will be carried out in Abu-Dhabi. In the beginning of next year, SaverOne systems will be installed in buses operated by ITC in order to explore their effectiveness. This new pilot joins the first collaboration outside of Israel for SaverOne that was signed with Italian truck manufacturer Iveco.
Electreon Technology Wins Accolades
Israeli Electreon developed an in-road inductive charging system that powers EVs via electrical fields generated by coils under the asphalt. Recently, the company signed a 30M NIS deal with one of Israel's largest public transportation operator, and now Electreon's technology also wins accolades. The company's technology made the list of "the best inventions of 2021" composed by Time Magazine.