Monthly Review January 2022
Passenger car registration: -22.7% compared with January 2021; Commercial Vehicles above 3.5 ton registration: -5.6% compared with January 2021.
Hezi Shayb-PhD in collaboration with Dr. Hanan Golan (the economic chapter was edited by Mr. Nadav Caspi, the I-via's Chief Economist)
February 21, 2022
Preface – Economic Climate
The Israeli economy is an advanced economy that belongs to the OECD organization. The GDP per capita is $52,553 and the growth rate in 2021 is estimated by 7.1%.
The Corona crisis has affected the Israeli economy as significantly as other economies in the world. The deficit in February 2021 – January 2022 is 3.3% from the GDP, the debt-to-GDP ratio is 67% The unemployment rate is 4.3% but the unofficial unemployment rate climbed to about 5.8%. The new government gave a good signal to the markets by passing a new budget for the first time in 3 years. From a monetary point of view, the crisis is being managed professionally by the Bank of Israel, which is monitoring the local credit market and solving liquidity problems through plans to purchase bonds and keep interest rates low.
In January, the fifth wave of corona virus continued to spread; however, the restrictions on the economy were minimal. As a result, the Israeli economy is functioning again and there was a decrease in unemployment.
Along with economic stabilization, there has been an increase in the inflation rate, as of January the annual rate is 3.1%. The chief economist in the Ministry of Finance predicts a similar increase next year as well; an increase in prices and inflation is a factor that must be taken into account in the coming years.
.
Statistical Profile
Society
Population (December 2021): 9.449 Million
Economy
GDP per capita (January 2022): $ 52,553
Inflation (January 2022): 2.8% Annual Growth Rate
Current Account Balance (Q3 2021): 4.43% of GDP
Trade in Goods and Services (January 2022): $13.4 billion
Finance
US Dollar Exchange rate (January 2022): NIS 3.13
Euro Exchange rate (January 2022): NIS 3.54
Long-term interest rates (January 2022) : 1.28% Per Annum
Short-term interest rates (January 2022): 0.01% Per Annum
Government
Debt to GDP ratio (January 2022): 67%
Deficit to GDP (February 2021 to January 2022): 3.3%
Motorization
Level of Motorization (2020): 397 Vehicles/1,000 Residence
Innovation and Technology
Gross Domestic Spending on R&D (2019): 4.9% of GDP
Environment
CO2 Emissions (2018): 6.98 Tonnes Per Capita
Jobs
Employment Rate (q4 2021): 68.16% of Working Age Population
Official Unemployment Rate (December 2021): 4.26% of Labour Force
Unofficial Unemployment Rate (including non-paid absence due to Covid-19): 5.8% of Labour Force
New Cars and CV Registrations
New Passenger Car Registration: January 2022
Passenger car registration: -22.7% compared with January 2021.
In January 2022, the Israeli passenger car market registered 37,404 new cars - a decrease of 22.7% compared with January 2021. Hyundai leads the sales chart, followed by Kia and Toyota.

New Passenger Cars Registration According to Brands: January 2022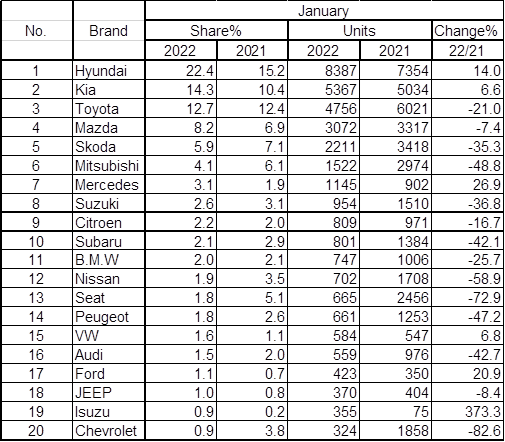 New CV above 3.5 ton Registration: January 2022
Commercial Vehicles above 3.5 ton registration: -5.6% compared with January 2021.
In January 2022, the Israeli market for CV above 3.5 ton registered a decrease of -5.6% in registrations with 1,941 new registrations, compared with 2,056 units in January 2021.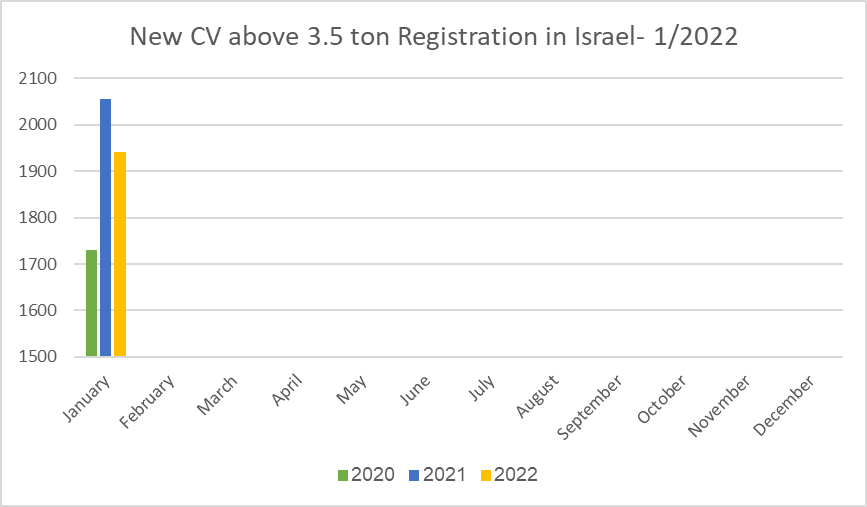 New CV above 3.5 ton Registration According to Brands: January 2022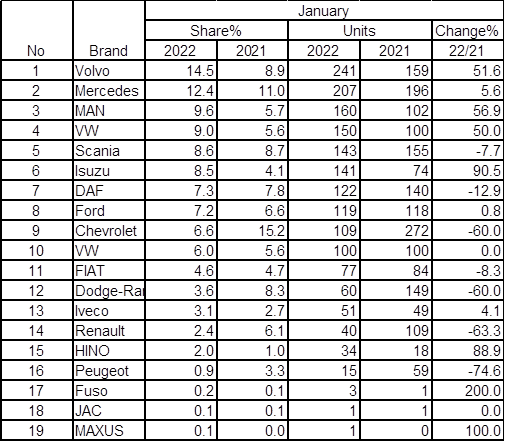 New Bus Registration According to Brands: January 2022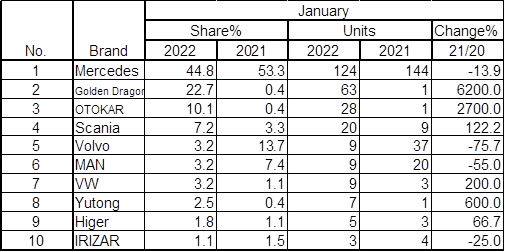 Israel's Auto and Auto-Tech industry
Gnrgy to Supply Charging Stations for Israeli Police
The Israeli Police chose Gnrgy, part of OPC Energy Group, as a supplier for dozens of charging stations for EVs. The company will supply 19 double DC charging stations and 25 double AC charging stations. In addition, the company will provide the users with its' a dedicated Gnrgy-Go App as a charging management solution with a private virtual charging network. Recently, the company has won a tender to supply hundreds of charging stations for government offices across Israel.
ZEN ENERGY and Delek Israel signed a strategic collaboration agreement
ZEN ENERGY, part of ZOKO Enterprises, and Delek Israel, signed a strategic collaboration agreement according to which the company will install charging ports inside Delek fueling stations. Phase 1 of the collaboration will include 40 charging stations in major traffic routes across Israel. The charging stations are manufactured by Siemens and will provide 150kW charging.
Japanese Auto-Parts Giant TPR to Invest Additional 5M$ in Aquarius Engines.
Japanese auto-parts manufacturer TPR have invested $5M in Aquarius Engines
TPR is a Japanese publicly traded manufacturer of engine components for the global automotive industry and was already a non-material shareholder in Aquarius Engines. The new investment will accelerate the development, production, and distribution of the Aquarius Engine in Japan and beyond. Aquarius presented in 2014 an engine designed to be used as an onboard generator. It weighs 10 Kg and has only 20 components and one moving part.
Adi Systems Wins Ministry of Defense Tender
Adi Systems, developer and importer of ADAS, won a ministry of defense tender to supply safety systems for IDF vehicles. The company will install FCW, SDA, LDW, FPW and PCW systems developed by MOVON.
Addionics Raises 27M$ in Series A Funding to Scale Up Battery Development
Addionics, a chemistry-agnostic battery technology company, announced it has raised $27 million in a Series A funding round to scale up its efforts to redesign battery architecture with the company's Smart 3D Electrodes, which improves the cost and performance of batteries with any chemistry – existing or emerging. The funding round was led by Deep Insight, a deep tech investment firm, together with Catalyst Fund, Delek Motors and Dr. Boaz Schwartz. The company's core IP is its patented and scalable electrode fabrication process that significantly lowers manufacturing costs, enabling mass market adoption of 3D electrode structures for the first time.
Chakratec Signs an Agreement for the Installation of 3 Additional Ultra-Fast EV Charging Stations in Germany
Chakratec, provider of kinetic flywheel-based energy storage technology, received a follow-on order for 3 additional ultra-fast charging stations in Germany. This order comes shortly after the company has announced its first orders for Chakratec 2nd generation product. The stations will be installed in a business and retail park in Reiskirchen bei Giessen, and in two hotels, one in Munich and one in Stuttgart.
Cipia Products to be Integrated in 2 Additional Car Models of a Leading Chinese OEM
Cipia, an AI computer vision in-cabin automotive solutions provider, announced that the company was awarded two new models with a leading Chinese OEM. As part of the collaboration, Cipia's leading Driver Sense Driver Monitoring Solution (DMS) will be integrated in the new models. The latest models increase the total number of design wins for Cipia to 23 vehicle models (Design Wins), on 7 different platforms across five car manufacturers. Cipia's customers include an electric car manufacturer in the US, SAIC Motors, an American car brand in China and two additional leading car manufacturers in China.