Monthly Review August 2021
Passenger car registration: +32.1% compared with August 2020; Since January 2021, an increase of 45.9% compared with Jan-Aug 2020
Hezi Shayb-PhD in collaboration with Dr. Hanan Golan (the economic chapter was edited by Mr. Nadav Caspi, the I-via's Chief Economist)
September 29, 2021
Preface – Economic Climate
The Israeli economy is an advanced economy that belongs to the OECD organization. The GDP per capita is $ 48,470 and the growth rate in 2010-2019 was the average annual growth rate of 3.3% per year. At the beginning of the Corona crisis, the debt-to-GDP ratio was 60% , one of the lowest in the Western world. The government deficit was 3.7% and the unemployment rate was 3.4%.
The Corona crisis has affected the Israeli economy as significantly as any other in the world. The deficit in September 2020 – August 2021 is 8.0% from the GDP, the debt-to-GDP ratio is 71.5%. The unemployment rate rose to 5% but the unofficial unemployment rate climbed to about 8.1%. The new government gave a good signal to the markets by passing a new budget for the first time in 3 years. From a monetary point of view the crisis is being managed professionally by the Bank of Israel, which is monitoring the local credit market and solving liquidity problems through plans to purchase bonds and keep interest rates low.
In August the fourth wave of corona virus continued to spread however, the restrictions on the economy were minimal. The grant to businesses and unemployed workers was discontinued. As a result, the Israeli economy is functioning again and there was a decrease in unemployment. The fourth wave can cause a setback in the recent month's achievements. It is unclear whether Israel will be able to meet the target set by the chief economist of the Ministry of Finance, growth of 4.6% in 2021.
Along with economic stabilization, there has been an increase in the inflation rate, as of August the annual rate is 2.2%. The chief economist in the ministry of finance predicts a similar increase next year as well; an increase in prices and inflation is a factor that must be taken into account in the coming years.
Statistical Profile: Israel June 2021
Society
Population
9.3777 Million
Economy
GDP per capita: 48,470$
Inflation: 2.2% Annual Growth Rate
Current Account Balance (Q1 2021): 4.3% of GDP
Trade in Goods and Services: $ 11.6 billion
Finance
US Dollar Exchange rate: NIS 3.22
Euro Exchange rate: NIS 3.86
Long-term interest rates (August 2021):0.75% Per Annum
Short-term interest rates (August 2021): 0.010% Per Annum
Government
Debt to GDP ratio: 71.5%
Deficit to GDP : 8.0%
Motorization
Level of Motorization (Q4 2020): 397 Vehicles/1,000 Residence
Innovation and Technology
Gross Domestic Spending on R&D (2019): 4.93%
Environment
CO2 Emissions (2019): 7 Tonnes Per Capita
Jobs
Employment Rate (Q1 2021): 65.40% of Working Age Population
Official Unemployment Rate (July 2021): 4.96% of Labour Force
Unofficial Unemployment Rate (including non-paid absence due to Corona): 8.1%
New Cars and CV Registrations
Israel New Passenger Car Registration – January-August 2021
Passenger car registration: +32.1% compared with August 2020; Since January 2021, an increase of 45.9% compared with Jan-Aug 2020.
In August 2021, the Israeli passenger car market registered 26,547 new cars. This figure represents an increase of 32.1% compared with August 2020. Since January, 236,525 new cars were registered – an increase of 45.9% compared with Jan-Aug 2020.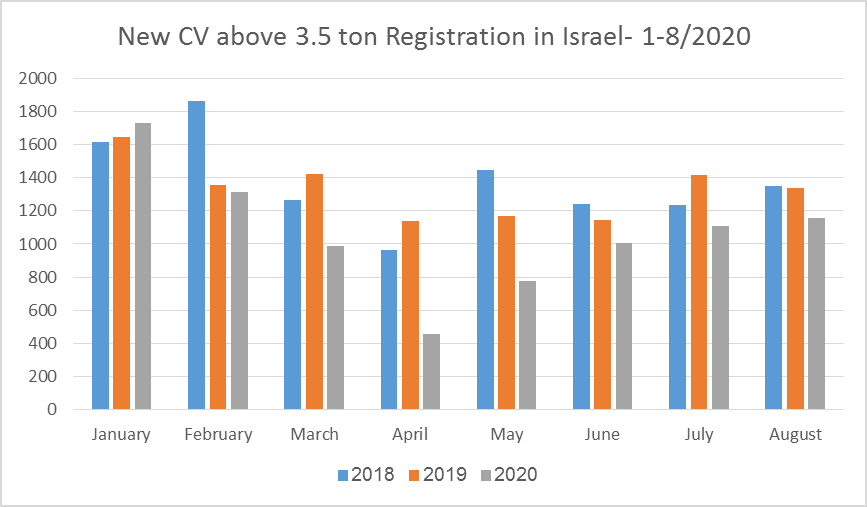 New Passenger Cars Registration in Israel 1-8/2021 According to Brands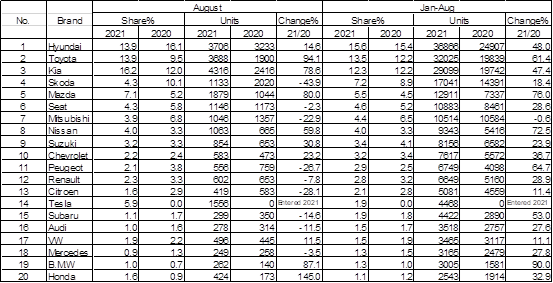 New CV above 3.5 ton and Bus Registration in Israel 1-8/2021
Commercial Vehicles above 3.5 ton registration: +46.3% compared with August 2020; Since January 2021, an increase of 46%
In August 2021, the Israeli market for CV above 3.5 ton registered an increase of 46.3% in registrations with 1,690 new registrations, compared with 1,155 units in August 2020. Since January 2021, 12,468 new CV and buses were registered – an increase of 46% compared with Jan-Aug 2020.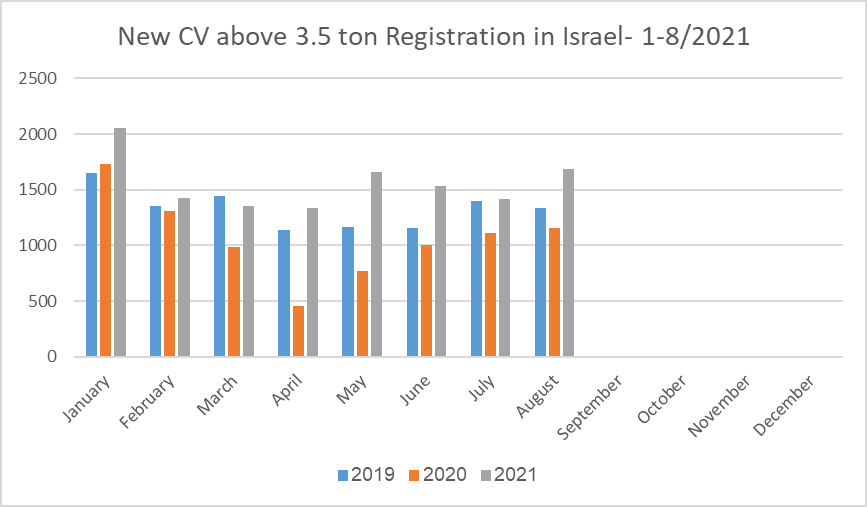 New CV above 3.5 ton Registration in Israel 1-8/2021 According to Brands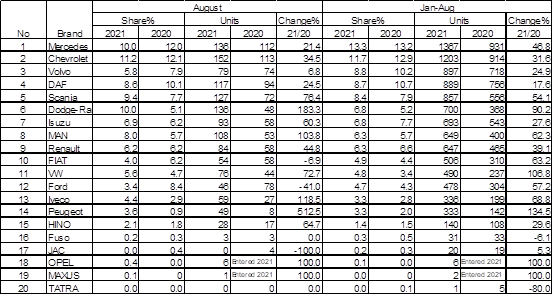 New Bus Registration in Israel 1-8/2021 According to Brands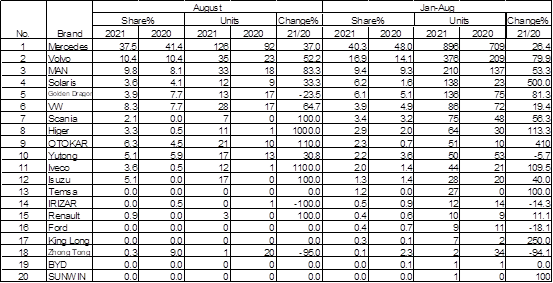 Monthly review – Israel's Auto and Auto-Tech industry
Mobileye Unveils a Fully Autonomous Taxi in Munich
Mobileye unveiled an autonomous six-passenger taxi at the IAA Mobility conference held in Munich. The company hopes to put the self-driving taxi on Israeli roads next year. The "robo-taxi" will be booked via Moovit App, that is used by 600M people world-wide – both companies are part of Intel Corp. The autonomous taxi is based on NIO ES8, a Chinese-built SUV, with the addition of Mobileye's self-driving system. An additional version will have a different chassis, developed in collaboration with German auto supplier Schaeffler. In Germany the service is planned for Q2 2022 and pending regulatory approval. It is likely that at least in early stages the taxi will host a human "safety-driver" until safety issues are proven to the satisfaction of the authorities.
Jerusalem Banns Polluting Vehicles
As of September 1st, commercial vehicles manufactured before 2005 with no DPF (Diesel Particulate Filter) are banned from entering Jerusalem. This includes pick-up trucks, vans, trucks and buses – passenger cars are exempt at this stage. The Jerusalem municipality hopes that this step will lead to a reduction of 40% in air pollution caused by transportation. Drivers violating the new regulation will face a 500 NIS fine (1,000 NIS for a vehicle owned by a company).
GM Expands the Activity of its Israeli R&D Center
In 2008, GM opened an R&D center in Hertzelia, the first one opened by a global auto manufacturer in Israel. According to the CEO Gil Golan, the center has grown significantly in the last two years. It currently employs 600 employees and will grow to 750 by the end of next year. In order to cater for all this manpower, GM will unite the activity currently carried out in 3 different locations, into one 11,000 SM location, also in Hertzelia.
Tesla Adds 3 Super-Charger Stations
Tesla expands its Super-Charger network in Israel and adds 3 additional charging stations, in Eilat, Mizpe Ramon and Afula. With the new stations, there are currently 5 stations with 28 quick-charging points in Israel for Tesla owners.
Otonomo Completes SPAC Merger
Israeli auto-tech company Otonomo developed a platform for trading in information gathered from connected vehicles. According to the company, the platform it developed analyzes over 4 BN data items gathered from 40 M connected vehicles, every day. Otonomo has completed a SPAC merger with Software Acquisition Group Inc. II, and is now listed on Nasdaq and traded according to a company valuation of 1.26 BN$.
Hyundai Joins CityZone
Hyundai Motor Group joins the innovation lab Cizyzone in Tel-Aviv. The lab, formed by the Tel-Aviv municipality, Park Atidim and TA University, hosts 20 start-up companies in the aim of finding technological solutions to transportation issues, pollution, Cyber security and more. Hyundai CRADLE Tel-Aviv will collaborate with those start-ups in order to carry out joint trials and experiments.
SaverOne Heading for Nasdaq
Israeli SaverOne continues its attempts to be listed on Nasdaq – the company reports it has approached American investment bank Truist Securities in order to locate strategic investors from the auto industry. SaverOne believes that the involvement of Truist will significantly aid its efforts toward an IPO.