Monthly Review December 2020
Passenger car registration: -15.5% during 2020; -20.1% in December. Commercial Vehicles above 3.5 ton registration: -19% during 2020; Decrease of 36% in December.
Hezi Shayb-PhD in collaboration with Dr. Hanan Golan (the economic chapter was edited by Mr. Nadav Caspi, the I-via's Chief Economist)
January 19, 2021
Preface – Economic Climate
The Israeli economy is an advanced economy that part of to the OECD organization. The GDP per capita is $ 45,780 and the growth rate in 2010-2019 was the average annual growth rate of 3.3% per year. At the beginning of the Corona crisis, the debt-to-GDP ratio was 60% and was one of the lowest in the Western world. The government deficit was 3.7% and the unemployment rate was 3.4%.
The Corona crisis has affected the Israeli economy significantly, as have other economies in the world. The deficit in 2020 is 11.7% from the GDP.The debt-to-GDP ratio is 73% The unemployment rate rose to 4.7% but the unofficial unemployment rate climbed to about 12.4%. Along with the economic crisis in Israel, there is also a political complexity and the declaration of new elections in March 2021 that makes it difficult for the government to pass a budget and formulate a coherent economic policy. On the other hand, from a monetary point of view, the crisis is being managed professionally by the Bank of Israel, which is monitoring the local credit market and solving liquidity problems through plans to purchase bonds and keep interest rates low.
In mid-December, a third lockdown began in Israel, which slowed economic activity and added many to the circle of unemployment. On the other hand, at the end of December, an extensive vaccination campaign began, in which more than a quarter of Israel's population was vaccinated. If the trend of a high immunization rate continues, Israel will be able to vaccinate the majority of the population as early as March and April 2021. The end of the health crisis will undoubtedly lead to a recovery in the economic situation during 2021. According to the forecasts of the Chief Economist in the Ministry of Finance, growth in 2021 is expected to reach 4.6%.
Statistical Profile
Society
Population: 9.279 Million
Economy
GDP per capita: $45,780
Inflation: -0.60% Annual Growth Rate
Current Account Balance (Q4 2020): 2.88% of GDP
Trade in Goods and Services: $50.8 billion
Finance
US Dollar Exchange rate: NIS 3.24
Euro Exchange rate: NIS 3.95
Long-term interest rates: 0.93% Per Annum
Short-term interest rates: 0.06% Per Annum
Government
Debt to GDP ratio: 73%
Deficit to GDP: 11.7%
Motorization
Level of Motorization (Q4 2019): 394 Vehicles/1,000 Residence
Innovation and Technology
Gross Domestic Spending on R&D (2018): 4.94% of GDP
Environment
CO2 Emissions (2017): 7.3 Tonnes Per Capita
Jobs
Employment Rate (Q4 2020): 66.15% of Working Age Population
Official Unemployment Rate: 4.6% of Labour Force
Unofficial Unemployment Rate (including non-paid absence due to Corona): 12.4%
New Passenger Car Registration
Passenger car registration: -15.5% during 2020; -20.1% in December.
In December, the Israeli passenger car market registered a decrease of 20.1% compared with December 2019, with 4,458 new registrations. From January 2020, the market dropped 15.5%, - 214,544 units in 2020 compared with 253,938 last year.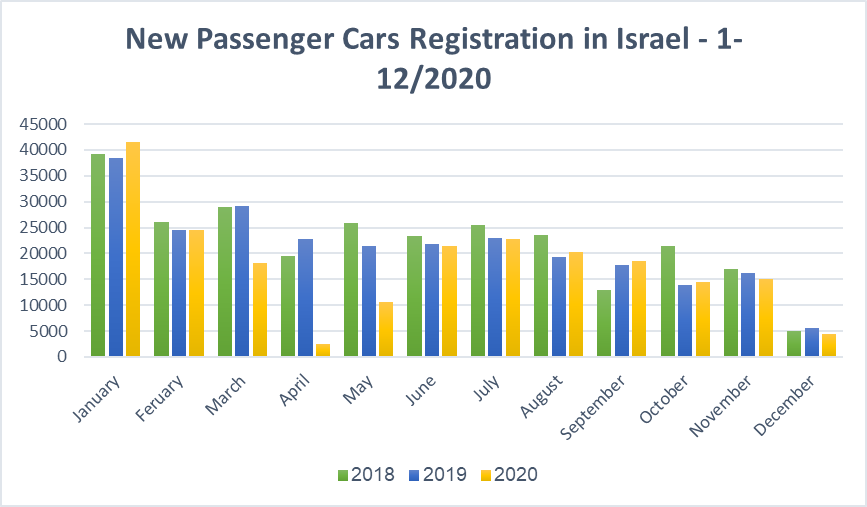 New Passenger Cars Registration 1-12/2020 According to Brands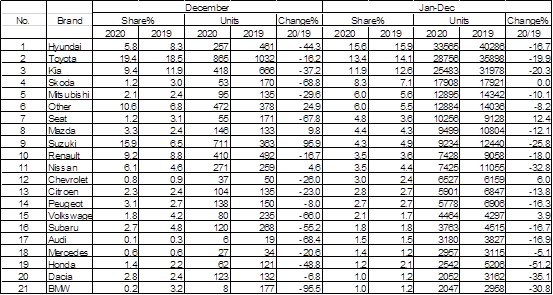 New CV above 3.5 ton Registration
Commercial Vehicles above 3.5 ton registration: -19% during 2020; Decrease of 36% in December.
In December, the Israeli market for CV above 3.5 ton registered a decrease of 36% in registrations compared with December 2019, with 442 new registrations. From January 2020, the market dropped 19% with 11,573 units in 2020 compared with 14,282 last year.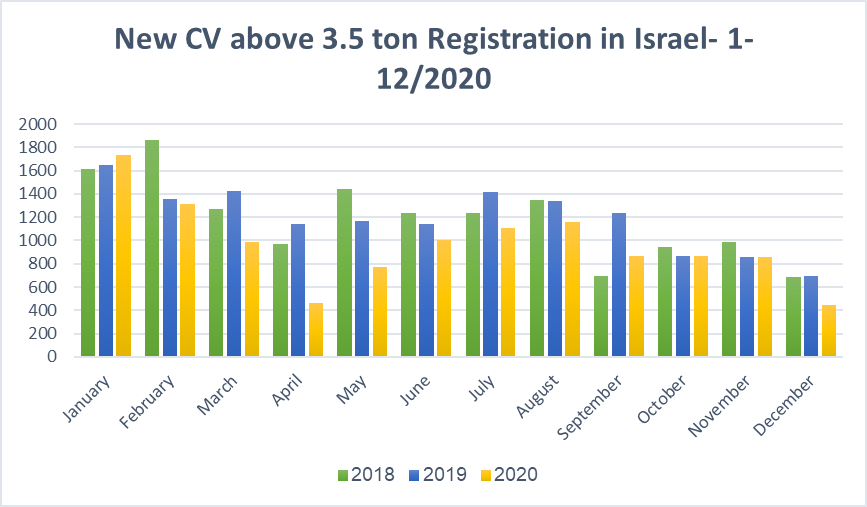 New CV above 3.5 ton Registration in Israel 1-12/2020 According to Brands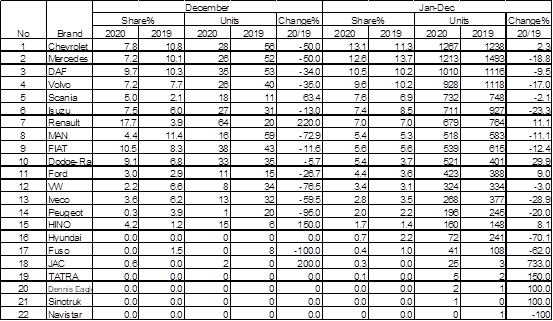 New Bus Registration in Israel 1-12/2020 According to Brands
Israel's Auto and Auto-Tech industry
Innoviz Technologies on its Way to NASDAQ, Valued at 1.4 B$
Israeli Auto-Tech company Innoviz Technologies announced a merger with SPAC Collective Growth that will turn it into a publicly traded company valued at 1.4 B$. The company, operating in the field of Lidar and AI imaging software, launched two months ago a new generation of sensors with improved performance and a decrease of 70% in the cost of serial production.
Chakratech Nearing IPO According to an Estimated Value of 400M NIS
Israeli start-up Chakratech will submit a draft prospectus towards an IPO according to an estimated value of 400M NIS – 3 times the value during its last fund raising in 2019. The company specializes in energy storage technologies for electric vehicles and developed a solution for converting electric energy into energy kinetic through a small engine installed on the flywheel. The same engine serves as a generator, and converts the electric energy back into kinetic energy when needed. Chakratech aims at the market for EV fast charging, valued at 60B$.
SaverOne to Install Safety Systems for Local Authorities in Israel
SaverOne's safety systems will be installed for the first time in vehicles operated by local authorities in Israel. The company that developed a technological solution for cellphone related distractions during driving, signed agreements for pilot testing with additional companies Henson and Plason. These companies join collaborations that are already underway with IDF, the Israeli Electric Company, Israeli Railways and more.
American BIRD Energy to Invest 7.15 M$ in Joint Israeli-American Clean Energy Projects
The BIRD Energy program announced it will invest 7.15 M$ in joint American-Israeli clean tech projects. The American Department of energy, Israeli Ministry of energy and the Israeli Innovation authority will invest the money in 8 projects, ranging from developing a battery for an electric airplane to membrane based fuel-cells and solid state batteries. The total cost of the projects is estimated at 17.4 M$.
Smart Traffic Lights Company Axillion to Enter the Stock Market
Axillion, an Israeli start-up that developed technology for operating smart traffic lights, will enter the Israeli stock market via a merger with APIO AFRICA. The company developed an AI algorithm that operates smart traffic lights according to traffic conditions. The solution is based on Microsoft AZURE that collects information from the field. This information is added to the data collected from vehicle cameras and sensors, in order to create synchronized waves of green lights.
Trucknet Heading for a Road Show Towards IPO
Israeli Trucknet provides a cloud based platform for the optimization of land transport in fleets. The platform allows for smart matching between space in trucks and loads, fleet management optimization and minimization of "empty rides". The company was established in 2016 and aims to raise a few dozen millions NIS.
Arbe Mulling IPO, either in TA or in Wall Street
Radar systems ceveloper for autonomous vehicles Arbe is considering an IPO according to an estimated value of 400-450 M$. The company aims to raise 100M$ in order to support its development process. Arbe launched its High-Res radar platform a few months back, aiming at the growing market for ADAS and autonomous vehicles.
Israeli Start-Up Presents a Safety Alert System for Motorcycles
Israeli start-up Ride Vision developed a safety alert system preventing road accidents for motorcycles. The system is based on picture recognition and AI, similarly to the system offered by Mobileye for cars. The company recently announced a7 M$ round A fund raising that will support the launch of the product that will be available for purchase in the beginning of 2021.
Innoviz Technologies on its Way to NASDAQ, Valued at 1.4 B$